One of the supposed means to the great gains of electronic health records is that of the Personal Health Record (PHR). Big guns like Microsoft and Google dived into the PHR pool a few years ago (Microsoft HealthVault and Google Health), only to find that the water was quite shallow. Getting information into a Personal Health Record turns out to be so hard, that the effort wasn't worth the results. Google gave up, at least for now, yet Microsoft persists. (There may be a lesson in there somewhere… ) But, as pointed out in an article on Slashdot, the Department of Health and Human Services has released newly revised rules for the Health Information Privacy and Accountability Act (HIPAA). These are effective on March 26, 2013. This is designed to, among other things, make PHRs more functional. As the press release says: "Patients can ask for a copy of their electronic medical record in an electronic form."
The Office of Civil Rights (OCR) has an online document THE HIPAA PRIVACY RULE'S RIGHT OF ACCESS AND HEALTH INFORMATION TECHNOLOGY that discusses this in some detail (I guess the OCR has to speak in ALL CAPS). It points out that people may request their medical records by email or a web portal and this has to be accepted the same as a written, signed request. It also says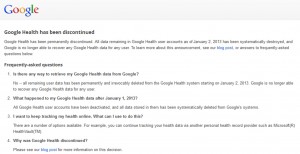 Electronic access may provide individuals with more timely access to more information in a more convenient manner. For example:
Electronic copies of PHI may be downloaded to USB thumb-drives or copied to compact discs relatively quickly and may provide individuals with a more convenient means of transporting and maintaining the information.
EHRs may enable covered entities to offer individuals an immediate and ongoing view into the covered entity's designated record set(s), either through a personal health record (PHR) or otherwise, while limiting the time, expense, and labor that may be required otherwise in order to provide access to the individual.
The comments in the Federal Register say:
to the extent possible, we expect covered entities to provide the individual with a machine readable copy of the individual's protected health information. The Department considers machine readable data to mean digital information stored in a standard format enabling the information to be processed and analyzed by computer. For example, this would include providing the individual with an electronic copy of the protected health information in the format of MS Word or Excel, text, HTML, or textbased PDF, among other formats.
This looks like an open invitation for healthcare organizations to get their acts together and support some form of a Personal Health Record, to save money on copying medical records, if nothing else.
Leslie S. Liu, Patrick C. Shih, Gillian R. Hayes of the Department of Informatics at UC Irvine published a paper online a year ago entitled Barriers to the Adoption and Use of Personal Health Record Systems. They point out the potential benefits of a PHR, but ask why only seven million Americans use one.  Yes, interoperability problems make it hard to import electronic records into a PHR, but they also analyze other barriers to wider acceptance of PHRs.
They used discount usability testing, which is described in two major books on the subject that they cite, but also on Jakob Nielsen's website useit.com.
Evaluation Methods in Biomedical Informatics (Health Informatics)
Price: $103.57
(6 customer reviews)
44 used & new available from $90.99
Unsurprisingly, given the abysmal state of usability in medical applications in general, usability of these products was poor, which the study implicates as a major factor preventing the adoption of the PHR. The paper even uses the abbreviation "HE" for Heuristic Evaluation, which simply means that when you do usability testing, you follow some rules (duh). My advice is to use well-known heuristics, and a great example of how to do this is in Nielsen and Tahir's book Homepage Usability: 50 Websites Deconstructed … but keeping your eye out for problems that don't fit into your heuristic. Remember, usability heuristics have not been around for a long time, so it's entirely possible you can find a new problem and get a heuristic named after you.
Homepage Usability: 50 Websites Deconstructed
Price: $39.99
(78 customer reviews)
75 used & new available from $1.64
Full disclosure: my Personal Health Record consists of (1) a folder of scanned PDFs, and (2) some of the most important information copied into Outlook memos that I sync with my phone. Not secure, but I've really got nothing I need to keep secure, and this way it's easily accessible. I am waiting for a good PHR to show up so I can use it.
It's too bad that I have to keep blogging about how poor usability of medical software is making healthcare more expensive and less efficient. I look forward to, someday, posting a gushing review of how good a particular piece of medical software is. But then, I've been looking forward to that for a long, long time.
Tags: EHR, electronic health record, Healthcare, Healthcare IT, Jakob Nielsen, Personal Health Record, PHR, Usability, User Interaction Design, User Interface